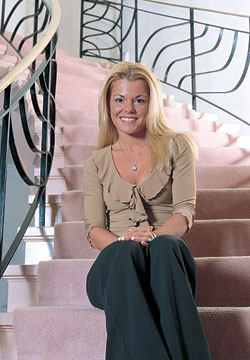 Shpresa taking a break at home between all her responsibilities.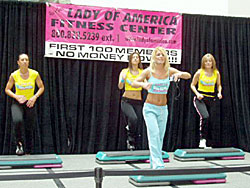 Shpresa leading a workout demonstration at a recent stop on her fitness tour of America's malls.
Shpresa's Family
When Shpresa Perlleshi's parents first came to America, they settled in The Bronx in New York City. Soon, there were several Perlleshi children. Money was scarce as they performed building maintenance in exchange for rent. All kids took part. Eventually, with hard work and saving every penny, the Perlleshi family managed to own the building they once maintained. Shpresa says her hands-on experience working for her daily bread, and witnessing her father's drive, helped instill in her an entrepreneurial spirit and insatiable passion to work hard for what she wants until she gets it.
Shpresa's Career Begins
Shpresa was a dance instructor and choreographer before she discovered her talent for instructing group classes in exercise. Her programs brought a new attitude to traditional workouts. She believed in herself, and she believed she would succeed — that is a large part of the charisma she shares with her clients. Eventually, she wanted to control the entire atmosphere of a club, not just the classes.
Shpresa's Health Club Takes Off
She opened her first women's only health club while attending college full time and turned it into a huge success with her innovative workout programs and beauty treatments. When you walk into Shpresa's club, you feel her belief, her excitement, and her extraordinary enthusiasm.
Shpresa and Lady of America Join Together
Several years later she began comparing different programs and found that Lady of America suited her particular style the best. Since that time she has been successfully running one of New York's most popular women-only gyms, but still finds the time to keep several other fitness related ventures afloat. For this young woman, Lady of America not only gave her a solid financial basis to work from, but the flexibility to build her own identity and business in the crowded fitness field. She now acts as the spokesperson and poster girl for the Lady of America franchise chain, and has worked together with the club franchiser in a campaign called "VIP Fitness Teens" in which teenagers have received millions of dollars of free memberships, special programs and incentives to get them off couch and onto the exercise floor.
Shpresa Dives into the Magazine Industry
Aside from numerous photo spreads and interviews in national and international magazines, Shpresa first gained national prominence in 2000, as Executive Editor of Women's Fitness International Magazine. In 2004, Shpresa exploded yet again when she became Editor in Chief of FIT BODY magazine. She headquarters the magazine inside her club, and develops a variety of new programs there getting real feedback from the members. She literally drives the fitness trends from her New York facility. FIT BODY is the first magazine that dares to put its offices inside a premier health club. New exercise protocols, programs, spa and beauty treatments are scrutinized by Shpresa and the expert editorial advisory board. The club has become a human performance lab for all types of workouts and day spa services.
Shpresa Captures the TV Audience
Shpresa's unique Burn-A-Genics program caught the public's eye when NBC decided to put her program to the test: two viewers, two weeks, three moves and a guarantee of the loss of 2 inches. The viewers lost 15 inches and were elated with their results. The ratings soared on NBC's Beach Bodies special and several markets picked up her segments. She then hosted the NBC10 12-Week Better Body Challenge. She was such a tremendous hit that they just asked her back for another body challenge called "Shpresa's Real Results Program". This time there were four new viewers that participated, including NBC's News Anchor (Amy Freeze). They all lost 8 to 12 inches in just 30 days. She'll now be using her exposure and new exercise expertise to keep Lady of America and FIT BODY magazine on the cutting-edge and in the public's eye.
What's Next? Shpresa's DVD Collection!
Inspired Corporation, the industry leader that brought you Denise Austin, Tony Little, Leslie Sansone, Spinning, and Jazzercise, has just released two new DVD's entitled Shpresa's Double Pump. Inspired has always been on the cutting edge of fitness, and has produced and distributed some of the greatest health and fitness titles of all time. Together, Shpresa and Inspired Corporation are creating the next generation of fitness products, and are redefining the future of the health and fitness arena.
For Immediate Release
For More Information, Contact Us:
(914) 448-2639

Inspired Corporation Announces The Next Big Name
In Fitness: Shpresa Perlleshi
White Plains, NY — Inspired Corporation, the industry leader that brought you Denise Austin, Tony Little, Leslie Sansone, Spinning, and Jazzercise, has signed an artist agreement with Shpresa Perlleshi, a fitness entrepreneur and personal trainer extraordinaire!
Shpresa Perlleshi first gained national prominence as Executive Editor of Women's Fitness International Magazine. Today, she is the Editor-in-Chief of Fit Body Magazine, the Lady of America health club franchise spokesperson, a partner in the VIP Fitness Teens campaign to raise health awareness in young girls, a nationally recognized personal trainer, and an expert in the latest fitness trends for women.
"This is a great partnership for Inspired Corporation. We have produced and distributed some of the greatest health and fitness titles of all time, and I am extremely excited to partner with Shpresa to create the next generation of fitness products. Together, with Shpresa, we are starting yet another huge craze in the fitness and wellness arena." — Donald M. Kasen, CEO, Inspired Corporation
"I am really excited about joining the Inspired family. They've always been on the cutting edge of fitness, and in this partnership, we will work together to redefine the future of health and fitness." — Shpresa Perlleshi
About Inspired Corporation
Founded in 1928, Inspired formerly known as Peter Pan Industries is the oldest independent entertainment company in North America. Inspired develops, produces, and distributes video programming, books, films, and television products specializing in fitness and wellness, children's and sports, worldwide. Known originally for Peter Pan children's records, Inspired has evolved as one of the 4th largest producers of Health and Fitness products in North America. Today, Inspired continues to impact the market with The Method series (12 Million Sold) along with their catalog of 200 other fitness titles. Inspired continues to develop and grow, and looks forward to its centennial and beyond.